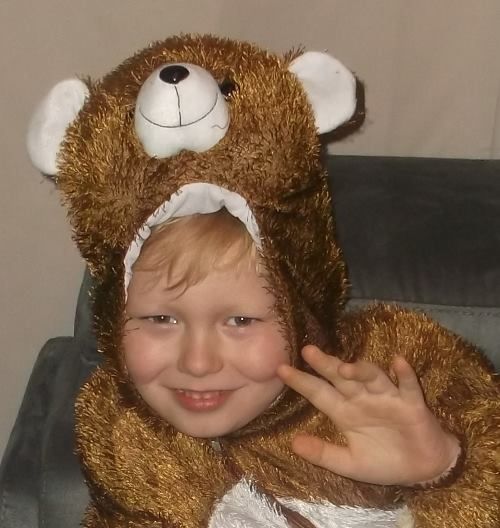 Our Alfie was lovingly referred to as 'Alfie Bear' since he was just six months old and became obsessed with a musical teddy with the same name. Alfie was a beautiful soul, and always had a big smile for everyone that he met. He was very musical and enjoyed playing the drums and guitar, as well as singing at the top of his voice. When asked what he wanted to be when he grew up, Alfie would reply "I want to be a rock star."
When Alfie was not rocking away on his guitar, he loved pretending to be a Fire Fighter. One of his favourite characters was Fireman Sam and he would often dress up in his costume and pretend to squirt everyone with his pretend hose. Alfie was the baby of our family and very close with his older brothers, Tyronne and Ryan and loved to play games with them.
Alfie started Reception year at the local primary school in September 2012. He loved his new teacher 'Mr Archer' and was a popular member of the class. Not long after starting, Alfie began having trouble sleeping. He would wake up screaming early hours of the morning and not go back to sleep. This meant that he would be extremely tired during the day.
The disturbed sleep was not normal for Alfie and in April 2013, we met with his paediatrician who advised us to contact sleep solutions. While in our meeting with the paediatrician she picked up on Alfie's unusual eye contact. Alfie had recently started staring sideways when looking at people and as his eye test had shown perfect results, we had no idea why. Once again Alfie was referred for further assessment.
By the end of June 2013, Alfie was falling asleep at school and at home which we initially put down to the lack of sleep at night time. However, this very quickly became worse, Alfie started being very clumsy and wanted to be carried everywhere as he was too tired to walk. In the space of a week, Alfie was dribbling, slurring his speech, unsteady on his feet and could not coordinate his actions, such as eating (fork to mouth) and putting pen to paper. He would also shake when he needed the toilet, complaining that it tickled.
On the 12th of July 2013, we got a call from school asking us to come and collect Alfie and take him to A&E. Alfie had just had a seizure at school and was weak down one side of his body. The fear we felt receiving that call was indescribable. When we got there, Alfie seemed dazed and just sat in the car staring into space. It was heart-breaking. We arrived at A&E around lunchtime. The receptionist took one look at Alfie and got him straight in to a room with a bed, she told us that a doctor would be down to see him in a few minutes. Alfie was soon admitted on to the children's ward. We told the Doctor all about Alfie's symptoms, and you could see one side of his face appeared drooped. The Doctor asked Alfie to walk and noticed how he was very unbalanced and dribbling. His speech was also slurred. Alfie was examined and had blood work done.
By 8.30pm, Alfie was extremely tired and as we were waiting in the playroom, it was hard for Alfie to settle. At 8.50pm, Alfie was discharged from hospital. The Doctor said he would need to come back in for an MRI Scan, but until then he believed he was well enough to go home.
By the 15th of July 2013, Alfie had got progressively worse. We took him back to the ward and begged that an MRI be done immediately. An hour later, Alfie was on his way down for an MRI. He was very groggy afterwards, but still managed to ask for a bag of salt and vinegar crisps and an ice-cream....that's our Alfie!
While sat with Alfie, Dr Bindu came in to speak to us. The look on her face told us that it was not good news. That was the day our whole world came crashing down, the day we were told our precious little boy had a brain tumour. Alfie was given Dexamethasone (steroids to relieve any swelling and pressure to the brain caused by the tumour) and he had to be blue lighted to Oxford hospital immediately. We remember him being excited about going in a real 'Nee-Nar' which he liked to call any vehicle with a blue light.
The next day in Oxford, Alfie wanted to go and play in the playroom, and was chatting to all the nurses. Despite being extremely unbalanced and very ill, Alfie continued to smile, laugh and play. He was soon taken down for another MRI scan and at around 10.30am, we were met by two Consultants and a Neurosurgeon who delivered the news that our precious Alfie bear had an inoperable and incurable tumour of the brainstem known as Diffuse Intrinsic Pontine Glioma (DIPG).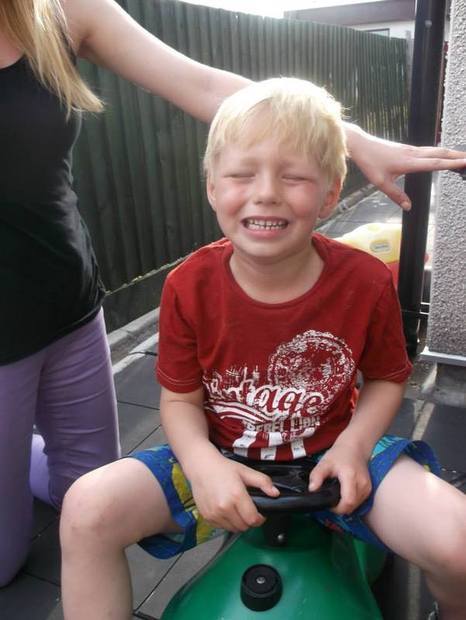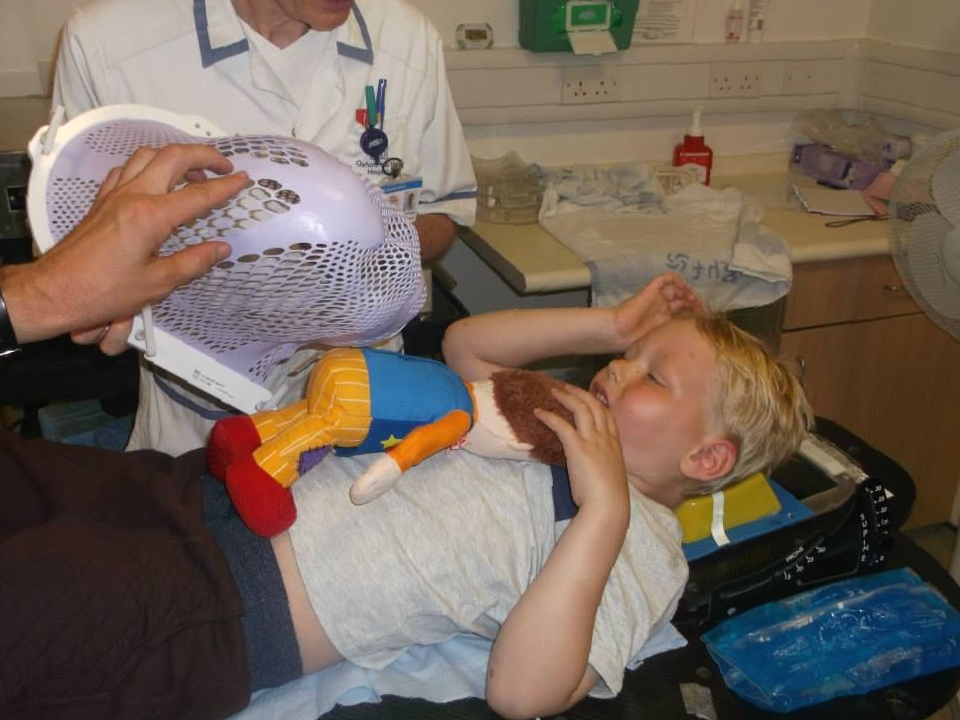 The next day, Alfie had a biopsy which later confirmed the tumour was a Grade 3 DIPG. After the biopsy his heart rate was very low, so they kept him monitored on the ward for a few days. Oxford arranged for us to stay in Ronald McDonald home while Alfie was on the ward so we could be close to him. The support and care Alfie and we received from John Radcliffe hospital, and the Consultant and nurses on Disney Ward at NGH was amazing.
Alfie instantly took a shine to his Oxford consultant Dr Shaun Wilson and was always asking when we could see 'Shaun' again.
A few days after the biopsy we were allowed to take Alfie home. He loved being back with his two older brothers and enjoyed a short visit to his reception class so he could see all his friends and teachers, especially Mr Archer.
In August, Alfie started hypo-fractioned radiotherapy, he went in to have his mask moulded and led very still while they were moulding it. Alfie loved his mask, comparing it to Spiderman's. We were concerned that he would need to be sedated for the treatment, however Alfie surprised us all when he just led there and let them do the treatments. We stayed in Clic Court for the first week, which is a house near the hospital run by Clic Sargent. By the end of the radiotherapy, Alfie would be rushing to get in there and see what he called the transformer machine. Not once did he move or complain while he was having the treatment and he would always have a smile for the radiographers, especially Dawn.
On the 28th of August 2013, Alfie completed his radiotherapy. He was so proud when he received a certificate and a gift from the staff for being such a superstar.
We were so proud of how Alfie handled his treatment; he continued to amaze us with the strength and bravery that he showed every day. Alfie's symptoms practically disappeared after his radiation and so we started planning his Christening and 6th birthday party. In September 2013, Alfie was Christened in front of family and friends, and it was such a beautiful day. Alfie looked so handsome in his white suit, and he made everyone laugh throughout the day, even taking a bow at the font. After the christening we had a party for him. Seeing Alfie so happy just smiling and playing made it the best day it could have possibly been.
Alfie was soon well enough to go back to school and start year 1. This was an emotional day as it is something we never thought would be possible. Alfie started going to school for three mornings a week and really enjoyed being back with his friends. Some days he had appointments or was too tired to go but when he did go, he loved it.
Alfie had an amazing Christmas with family and friends. He performed in his school Christmas concert. Alfie stood up with his class and sang and danced to two songs, which he had learnt off by heart. We just tried to make it as special as possible for him and make as many precious memories as we could.
After Christmas Alfie enjoyed a magical four-day break to Euro Disney, organised by Make-A-Wish. Alfie loved meeting all his favourite characters and going on the rides. The Disney hotel also organised a surprise visit from Mickey and Minnie. We will cherish these memories with our Alfie forever.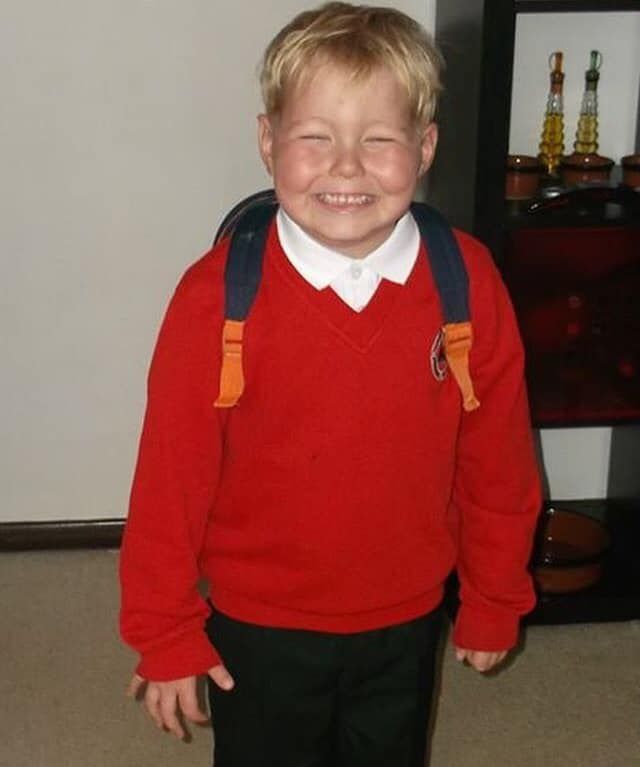 On January 22nd, Alfie had another MRI scan, and the results were 'remarkable'. The scan showed that the tumour was slightly smaller after the radiation. Alfie's consultant was pleased with his progress, and the fact that his symptoms had not yet returned. Unfortunately, by the start of March 2014, Alfie started experiencing problems with his eyes. This was shortly followed by wobbling when walking and slurring of his words. We took Alfie straight back to NGH where they performed a CT scan.
We were told that Alfie has had a small bleed, bleeding within the tumour. We then went back to John Radcliffe where they took Alfie down for another MRI scan. A few days later we were told the heart-breaking news that the tumour has grown and is progressing again. Alfie had some of his brain tissue tested for a certain mutation, if it was positive then he would have been eligible for a clinical trial. In the meantime, he had a chemotherapy drug called Temozolomide every day for five days in a twenty-eight-day cycle.
Alfie completed his first week of chemotherapy and coped very well with it. He did get very tired after and experienced some sickness too, but generally he was doing well. Alfie continued to take steroids which made him very hungry, this was a problem when it came to taking Chemo as he was not allowed to eat for one hour before and two hours after. That was like torture for Alfie. We all continued to pray for a miracle and never gave up hope. We are so proud of our little hero and the courage he showed. A smile from Alfie was like light in the darkness and we couldn't have been prouder of our beautiful boy. A true inspiration to us all!
April 2014, we heard that Alfie's tissue sample had tested negative for the mutation so unfortunately he was not eligible for the clinical trial. Alfie continued with his next course of Chemotherapy but did not cope well the second time around. Alfie was very sick and had several headaches and could no longer use his right arm or hand. On Saturday the 26th of April at 3.30am, Alfie awoke with a headache and sickness. We took Alfie to Northants hospital as he was very drowsy and having to be physically woken up for a drink of water. Alfie ended up sleeping all day and only waking up for 2 minutes at a time. Alfie did not eat or go to the toilet, and he barely spoke, even when he did speak, we could not understand him. This was extremely frightening.
The next day after being on a drip all night, Alfie woke up properly. He could not walk unaided, and his speech had become very slurred. However, he sat up and ate breakfast. This was such a relief to us. We had never been happier to see our little boy eating his cereal. We even got a big smile.
Alfie's blood tests had ruled out any infection, so he was later taken down for a CT scan. On the Sunday afternoon, Alfie's Consultant Dr Bindu came in to give us the scan results. It was devastatingly the news we had dreaded. The scan showed an increased pressure on the brain caused by the tumour progression. A part of us already knew the results, but having it confirmed was heart breaking. Our Alfie had five amazing months after Radiotherapy and coped extremely well with his first course of palliative chemotherapy, but sadly by March the tumour began waking up and the chemo had begun making our little boy sick.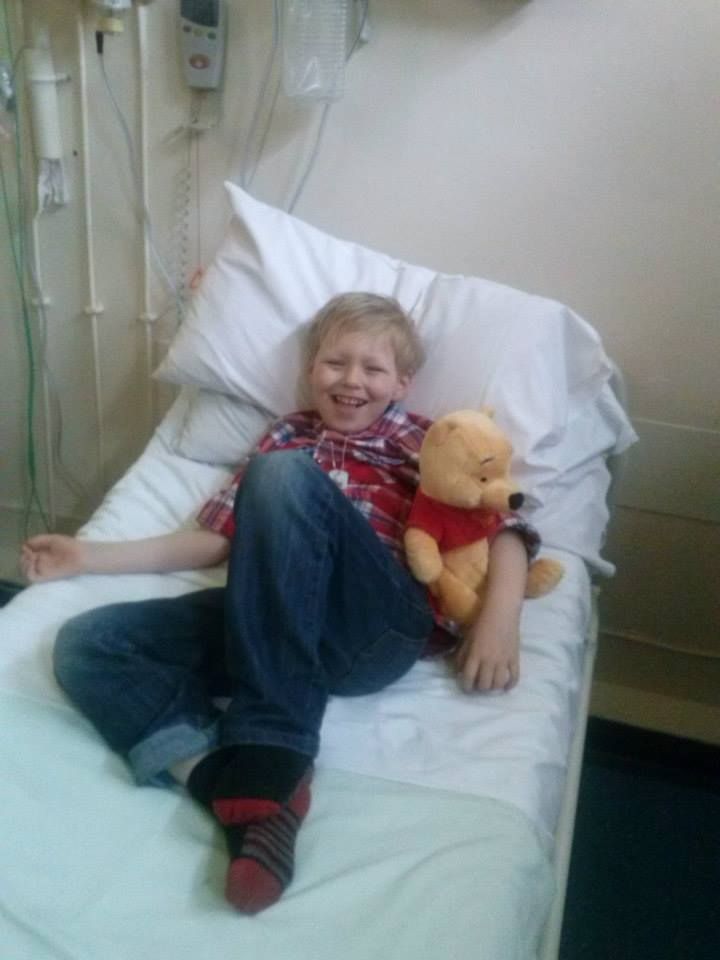 On Sunday 27th April, we were told the devastating news that nothing more could be done to slow the tumour down. Alfie was put on an increased dose of steroids to help relieve some of the pressure and we brought our little Alfie Bear home temporarily, while his symptoms were stable. His amazing Consultants helped us to care for Alfie and manage any symptoms that he had. Once Alfie's steroids were increased, he began speaking more clearly, and once again he was giving us his beautiful smiles and plenty of laughs. He had some visits from family and friends and a few hours out doing things that he loves. Alfie could no longer walk unaided, and his eyesight was not as good as it was either. He also got worn out very easily so just enjoyed cuddling up to us and his brothers watching his favourite DVDs.
Alfie's bravery continued to amaze us, he would still laugh and smile, except it would take more effort for him. We smiled because Alfie did. We loved our little boy's strength. Sadly, by the end of May, we saw a steady deterioration in Alfie's condition. His breathing had become a struggle and he was generally weak. This led to our beautiful Alfie losing the ability to swallow and to talk. On the 1st of June, we took Alfie to Northants hospital where sadly his condition quickly deteriorated. On the 02nd of June at 1.15 in the afternoon, our brave Alfie bear sadly passed away with Mummy and Daddy by his side.
Our Alfie bravely fought until the bitter end, a true inspiration to us all. Alfie is now free of DIPG and has earned his angel wings. We are incredibly proud of the strength and courage that our beautiful Alfie showed throughout his journey. He will always be our hero and his huge smile and beautiful spirit will live on in all our hearts. We and Alfie's amazing big brothers Tyronne and Ryan, as well as all our extended family are completely devastated. The house feels empty, but our hearts are full of love and pride for our little boy who brought so much love and laughter to our lives. Alfie Bear will always be remembered as the bravest little boy with the biggest smile.
When we were told Alfie did not have long left with us, we decided to donate Alfie's whole brain and tumour to medical research after he earned his wings. We hope that this will help drive forward research and make a difference to future children. Generally, parents in the UK are not asked about donating their child's brain. How do you ask a parent who has been told their child's Cancer is terminal to do something that has no life benefit to their own child?
We only found out it was an option after reading some American articles. We also read up on the importance of whole brain and tumour/tissue donations for research. Although donating Alfie's brain was an incredibly hard decision and not one any parent should even have to think about, we take some comfort in knowing that a part of our brave little boy is still here helping others. This is our Alfie Bear's legacy.