dedicated to raising AWARENESS & FUNDS for CHILDHOOD BRAIN CANCER RESEARCH
Inspired by their Son's bravery. Alfie's parents Zoe & Danny decided to join up with The Brain Tumour Charity to form Alfie Bear's Journey Fund. They hope that sharing Alfie's story will help raise much needed awareness of Diffuse Intrinsic Pontine Glioma (DIPG) while raising vital funds to support childhood brain tumour research. Zoe & Danny's wish is that a cure is found sooner to save future children and their families having to hear such a poor prognosis
They chose to work with The Brain Tumour Charity because they fund cutting edge research to find a cure for brain tumours as well as raising awareness and providing support to those affected by this devestating disease.
Through Alfie Bear's Journey Fund, their family, friends and amazing supporters the team have raised over £150,000 for DIPG Research in Alfie Bear's memory.
You can read Alfie Bear's Story here.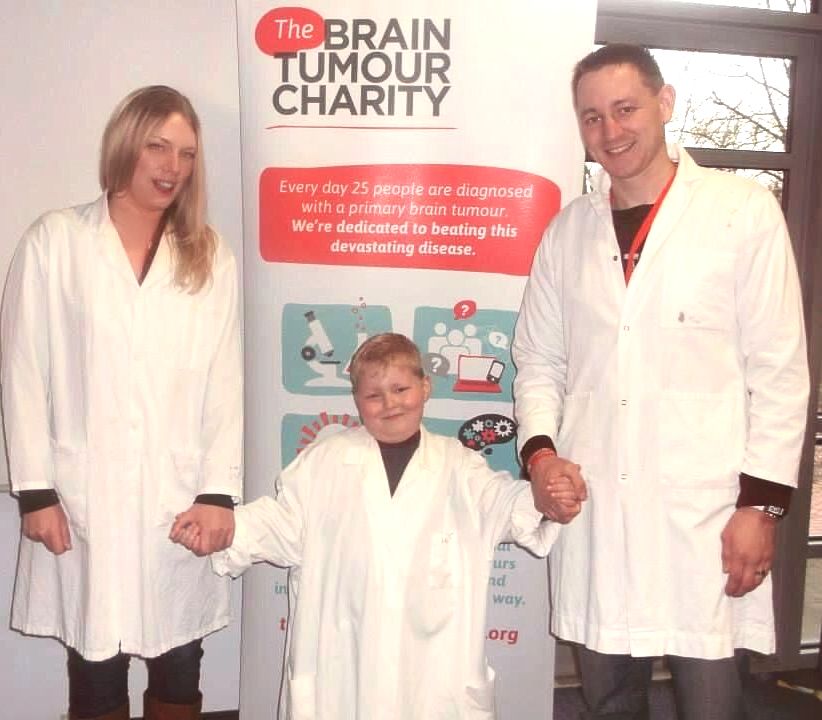 Diffuse Intrinsic Pontine Glioma (also known as DIPG and more recently DMG) is a highly aggressive brain cancer. The tumour is located in the pons (middle) of the brain stem. DIPG's grow amidst the nerves, so it is impossible to surgically remove them.
The brain stem is the main communication centre for sending information from the brain to the body and receiving information from the body to the brain. The brainstem also contains the central part of many of the cranial nerves controlling the movement and sensitivity of the eyes, the face, hearing, steadiness, and taste among other things. It is a very delicate area, that is responsible for many vital life functions such as breathing, heart rate and blood pressure.
40 UK Children will be diagnosed with DIPG each year, that is one child every nine days. DIPG accounts for 80% of all brain tumour deaths in children. They can develop any time, however the median age at diagnosis is 5 to 7 years of age.
Only 10% of children diagnosed with DIPG will survive two years.
Median survival is sadly just nine months.
Symptoms of DIPG can vary but a child with DIPG may experience
Clumsiness/Wobbliness when walking
Loss of balance
Changes in behaviour
Double vision
Squinting
Facial Weakness/Drooping on one side of face
Weakness of a leg and/or arm
Slurred speech
Dribbling
Tilting of head
Problems with eye movement
Unusual sleepiness
Problems swallowing
If there is swelling around the tumour, symptoms can include
Headaches
Nausea and Vomiting
If the tumour spreads to the spine it can cause
Back pain
Difficulty walking
Problems with bowel and bladder control
Symptoms are usually present for six months or less at time of diagnosis.
Alfie Bear's Journey support the incredible HeadSmart Campaign through The Brain Tumour Charity. The HeadSmart campaign have reduced the average diagnosis time for childhood brain tumours in the UK down from 13 weeks to 6.5 weeks. You can download symptom cards, a symptom diary and other materials from their website: VISIT HERE
Due to the location of DIPG, it is currently impossible to operate. Surgery could cause severe damage to structures vital for breathing and heart rate, as well as walking, eye movement, swallowing etc.
Steroids such as Dexamethasone, are usually given upon diagnosis, to help relieve any swelling and pressure around the tumour.
Palliative Radiotherapy is the standard existing treatment for DIPG. The radiation is given just to the area of the tumour and can dramatically improve symptoms. However, this is only temporary. The tumour eventually starts growing again, usually at a much faster and more aggressive rate than before.
Chemotherapy has shown little effect in treating childhood DIPGs so it is unlikely that your child will receive this form of treatment unless it is part of a clinical trial.
Given the lack of treatments available to DIPG patients here in the UK, you may want to look into active clinical trials available in other countries that your child may be eligable for. Please discuss this with your childs medical team.
You can find more about clinical trials here; Clinical Trials (dipgregistry.org)
You can also get a free brain tumour information pack from The Brain Tumour Charity which has been designed to help you through this difficult time, to guide you through the healthcare system, answer your questions, and reassure you that you're not alone so that you feel confident when discussing treatment and care options with your medical team. You can get yours here.
The Brain Tumour Charity have a range of animations designed to help explain brain tumours. There are three characters, Jake, Charlie and Lily who cover a range of topics including scans, treatments etc. Animations can be found here.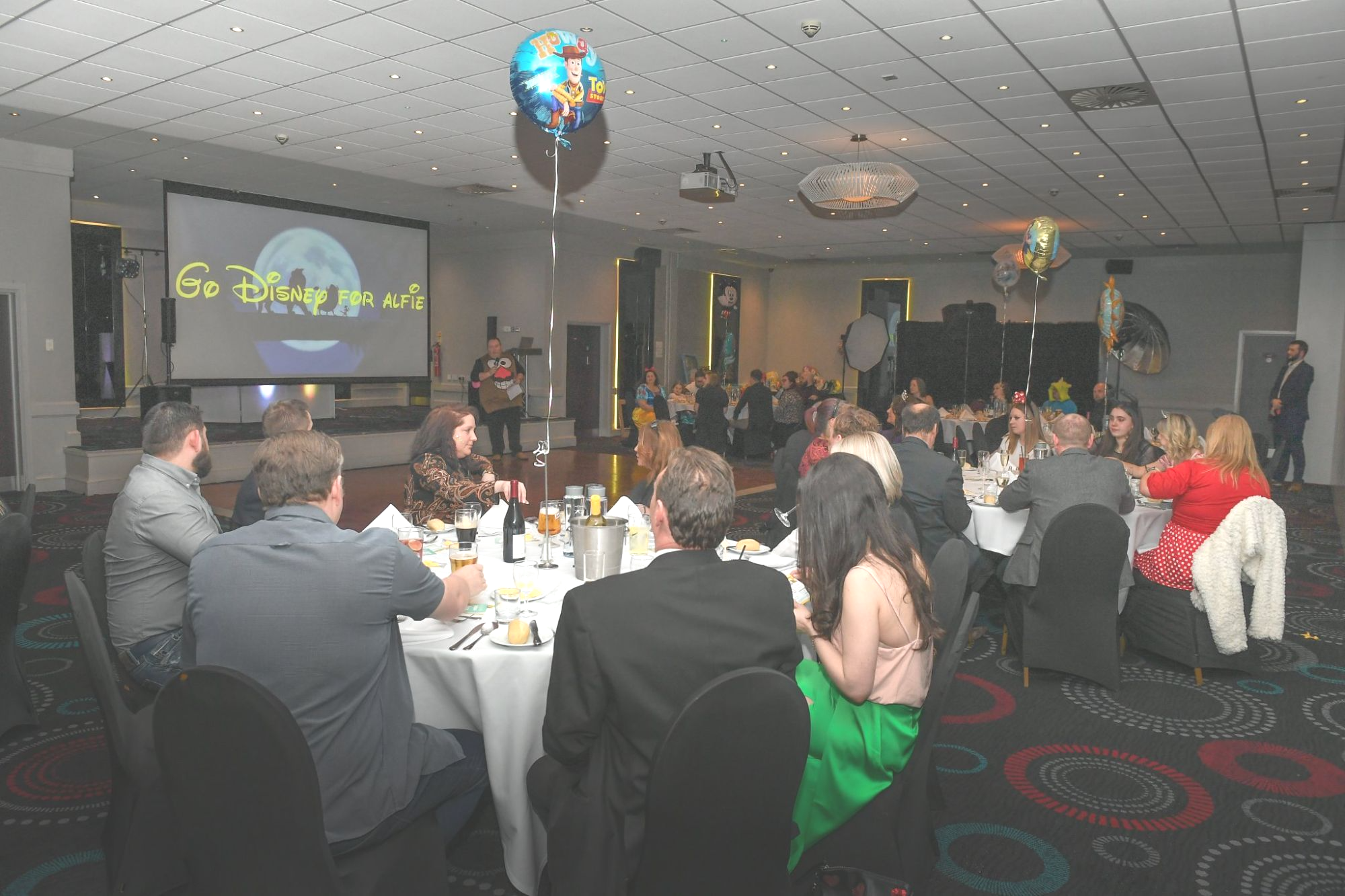 Go Disney for alfie dinner 2022
Earlier this year and 30 Months after our last face to face event, Alfie's Uncle Graham hosted the Go Disney for Alfie Dinner 2022 at The Park Inn Hotel, Northampton.
It was a fantastic evening as always and it was great to see so many of you again.
While it was a smaller event than usual the generosity of our amazing supporters helped us raise an incredible £3,307 in aid of Alfie Bear's Journey - The Brain Tumour Charity.
Our heartfelt thanks to you all for your continued support.
We look forward to seeing you again next year.
Photo Credit: Mark Eaton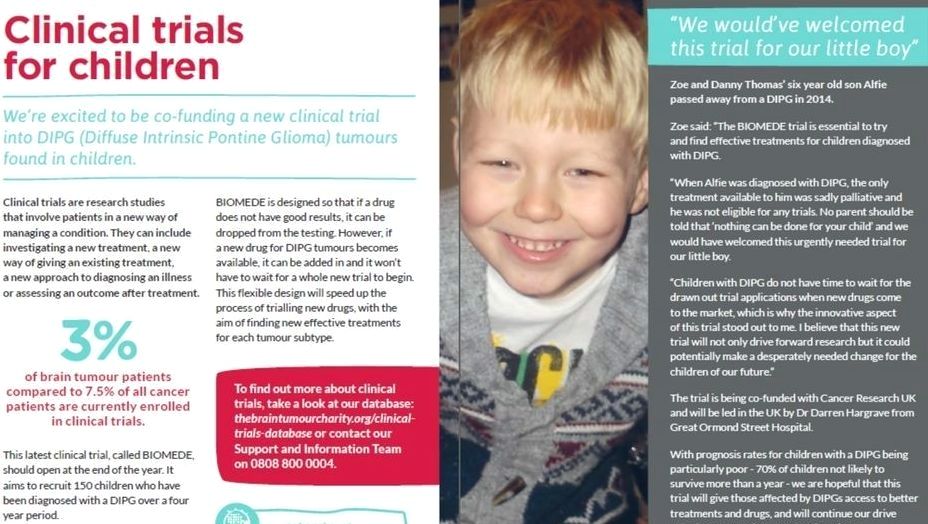 With the help from our wonderful supporters, Alfie Bear's Journey Fund donated £90.000 to the BIOMEDE Trial through The Brain Tumour Charity.
The BIOMEDE Trial is an adaptive clinical trial for Children with DIPG/DMG, led by Dr Darren Hargrave
The trial is the first of its kind because it requires the children to have a biopsy of the tumour, and based on the molecular traits of the tumour different treatments are assigned. The adaptive nature of this trial means that as new treatments become available for this kind of tumour, they can be added into the trial. This is key so that children get access to the new, potentially life-saving treatments faster. BIOMEDE research is still ongoing but the trial has reached its milestone of participants and is now closed.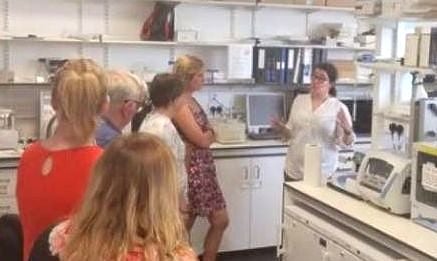 Alfie Bear's Journey are proud to have supported the DIPG Research going on within the Structural Genomics Consortium (SGC) through The Brain Tumour Charity's partnership.
The SGC have a long standing interest in the ACVR1 gene which is found to be mutated in around 25% of cases of DIPG. When ACVR1 is mutated, it causes over-activation of a protein known as ALK2, which leads to excessive cell division and tumour growth.
The SGC's previous research has enabled them to target ALK2 as a therapeutic option for another disease. The research team have created and analysed over 170 types of drugs to block the actions of ALK2. and identified a molecule, called M4K2009, that's shown significant promise in blocking the activity of ALK2. Their ultimate goal is delivering a new treatment for DIPG.
Thank you for visiting our awareness page and taking the time to read Alfie Bears story. This video was kindly made during our time as the Mayor's Charity of the Year. It highlights some of the work that we do as well as the devastating reality of DIPG. Special thank you to Ashley Riley & Phebe Donovan from Ashley Riley Communications, for making this fantastic awareness video ♥ #LifeofRiley